Lightning killed more people in Florida last year than any other state
March 25,2016 | Filed in : lightning, Uncategorized, unreal weather.

More people died in Florida last year from lightning strikes than anyother state.

Five deaths,including onein Miami-Dade County,are attributed directlyto lightning,which is one fewer than in 2014 buthigher than the four killed in 2013.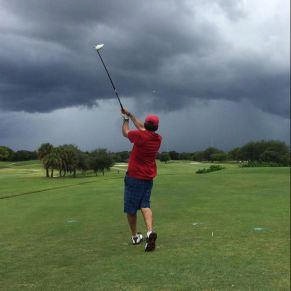 Palm Beach Post Digital Senior Editor John Bisognano drives down the middle of Jupiter's Abacoa Golf Club No. 16 fairway. (Note the ball just above John¹s head). Photo courtesy Jay Rose
Nationwide, 26 people were killed by lightning last year. And they all weren't just standing outside in the storm.
Some activities occurring before the strike included rounding up cattle, picking blueberries, covering chickens and playing disc golf.
This is severe weather awareness week in Florida and forecasters are highlighting dangerous weather, such as lightning.
In South Florida, in addition to the one person killed in Miami-Dade, eight people were injured as a direct result from lightning strikes. All except one of the strikes occurred during the months of June through September.
Lightning can strike from miles away and when the sun is shining. Also, it's a myth that more golfers are struck by lightning than people doing other activities.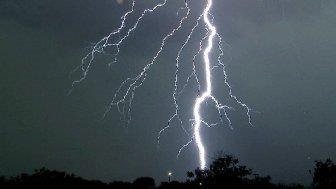 Lightning strikes south of Belvedere Road near I-95 in West Palm Beach on July 9, 2009. (Thomas Cordy / The Palm Beach Post)
"People get the idea that jewelry, headphones, golf clubs attracts lightning but that's not the case at all," said Matt Bragaw, a meteorologist and lightning safety specialist with the National Weather Service in Melbourne. "Metal conducts electricity very efficiently, but it does not draw electricity to it like a magnet."
If anything, Bragaw said, it's the act of swinging a club that might draw lightning's attention because it makes the gofer the tallest object in what is usually the mostly wide open terrain of a tee or fairway.
Florida, which led the nation in lightning deaths between 2005 and 2014 with 47 people killed, gets 90 percent of its strikes between June and September. Most strikes occur between 2 p.m. and 10 p.m.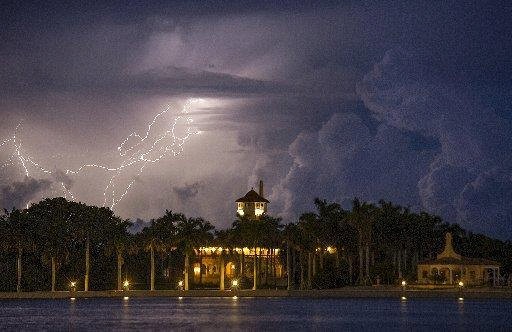 Lightning flashes in the sky over historic Mar-a-Lago owned by Donald Trump, July 30, 2015, in Palm Beach, Florida. (Greg Lovett / The Palm Beach Post)